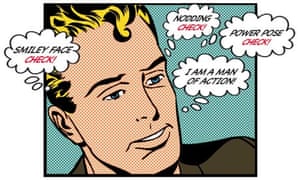 "The self-help industry is mired in ideas about positive thinking that are at best ineffective and at worst destructive. If you want to be more confident or successful, says Richard Wiseman, the best thing to do is act the part."
While this advice has high merit, grounded by Harvard University's (late 19th century) William James, The Principles of Psychology, who first introduced us to the two-way relationship street between emotions and behavior, 'the positive action, act as if' concept is still largely incomplete, in and of itself.
 Aside from the more complex interactions between emotions and behavior with their resulting feelings, thoughts, actions, cause and effects, cementing our beliefs – including meditation with associated creation of chemical changes in the physical body, external environment (plants, etc.) ………another major perception between the 'positive thinking, positive action' duality remains entirely ignored – the I, Me, and We, Community discrepancy.
With significant headway made towards understanding/application of the complex relationship between positive thinking, positive action on an individual basis, the 'We, Community' aspect remains ignored. The incongruence in the statement, 'the tree is left standing but the whole forest died', can readily be seen. This tree/forest analogy is clearly exposed in group behavior within the commercial/corporate domain.
 

If, as countless people mimic today, "it's all good", "living the dream", where is all the overwhelming, consolidated and growing pile of shit coming from?
At a time of worldwide exponential population increases, with their attendent commercial needs, wants, desires…. the market craters, capitulates? A concept beyond INSANE!
7 reasons stocks are cratering
ONE SIMPLY CANNOT IGNORE THE FACT THAT EVEN IF ONE APPROACHED INFINITE POSITIVE THINKING, SO LONG AS ONE'S BEHAVIOR AND ACTIONS CONTINUE TO SUPPORT AND CONTRIBUTE TO AN OVERALL LETHAL, COMPOSIT, SELF STRANGULATING SYSTEM, THE RESULTS WILL PERPETUATE INCREASINGLY DEVESTATING OUTCOMES AS NOW WITNESSED DAILY.
The catch 22 is the premeditated design of the system which insures your compliance – your income and livelihood depend upon total obedience.
Furthermore, the feeble excuse 'of the many saved' over the years (by this antiquated system) 'the many saved' cannot even be seen on a comparison chart when contrasted with the direct and indirect caused deaths resulting from economic inequality and deprivation.
"I observed a mature and initially poised businessman enter the laboratory smiling and confident. Within 20 minutes he was reduced to a twitching, stuttering wreck, who was rapidly approaching a point of nervous collapse… At one point he pushed his fist into his forehead and muttered: 'Oh God, let's stop it.' And yet he continued to respond to every word of the experimenter, and obeyed to the end." 

 Resource Wars all the way down – Not to worry, only collateral damage
Example of outright theft?
Co-Pay definition:  A type of insurance policy where the insured pays a specified amount of out-of-pocket expenses for health-care services such as doctor visits and prescriptions drugs at the time the service is rendered, with the insurer paying the remaining costs.
Retail Cost of Bayer contour diabetes test strips – $24.45
Out of pocket patient co-pay for this on a specific plan – $64.00
Insurance paying remaining cost – oops, negative #, equals absorbing additional profit of $39.55
United States, the most expensive place in the world to get sick. New data from the Kaiser Family Foundation and New York Times shows "anyone short of Bill Gates is in big trouble if they get sick, even if they have insurance," says Dr. David Himmelstein of Physicians for a National Health Program.
"Gene therapies offer dramatic promise but shocking costs" 4-6 million dollars per treatment
Turing Pharmaceuticals CEO Martin Shkreli defends 5,000 percent price hike on Daraprim
The curious incident of the $44,000 prescription
The "eye popping" cost of cancer drugs – $100,000.00 PER PILL
Out-of-network hospital care lands woman $300K bill
Questcor Finds Profits, at $28,000 a Vial 
Coming:
*****************
 

HOWEVER, NO IDEOLOGY, FALSE OR UNFOUNDED BELIEFS, OPINIONS ….. CAN OF THEMSELVES EFFECT AND PROMOTE SUSTAINABLE AND PROSPEROUS EVOLUTIONARY CHANGE WITHOUT THE ACCOMPANIMENT OF AN EMERGING AND SUPPORTING SCIENCE CONTINUOUSLY ENLARGING OUR EVOLUTIONARY WINDOW TO REALITY…… TOP SECRET IN THIS ARENA GOES BEYOND 'CRIMES AGAINST HUMANITY'.
For Evolutionary Advancement, Here is How:
A more refined view of E=MC2 discloses Light (C) as The Radius of Curvature of All Natural Law, equating to the kinetic energy equivalent of the mass energy of matter  –  meaning if a differential of energy equal to this quantity exists between the observer and the point which he is observing, the natural laws will be suspended. If the energy differential is in excess of the quantity C, the laws will appear to operate in reverse at that point.
The far more fundamental and simpler definitions of space time mass matter energy gravity become mandatory: